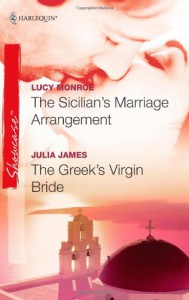 There are two books in this Harlequin's Showcase. Both are about grandfathers arranging marriages for their granddaughters without the granddaughter's knowing.

The first book is The Sicilian's Marriage Arrangement by Lucy Munroe, and it's about Luciano di Valerio, a Sicilian tycoon who is blackmailed into marrying Hope Bishop by her grandfather. I liked this one. I thought it could have been better, but I liked it. I really got into the story once Hope and Luciano married. At first they're pretty happy, but later Luciano thinks that Hope was actually in on the arranged marriage with her grandfather from the start, and he starts to distance himself away from her. Hope, who actually doesn't know about the arrangement, starts to worry about why he's so cold towards her. Things then get heavy in the drama department, especially when Hope finds out she's pregnant.

I can't say that I totally liked the characters. Luciano was ok. He was kind of bland, but I did like it when he was protective of Hope. Hope could have used a little bit of work too. I didn't mind her being a hopeless 23ish year old virgin character, but I couldn't get good feel of her personality. In the narrative it says she's supposed to be this very caring and giving person and other characters say she is, but there wasn't much shown to show that she is like that. All I could see of Hope from the story is that she's a young woman who has a crush on Luciano and who is innocent when comes to sex.

The second is The Greek's Virgin Bride by Julia James. It's about Andrea Fraser who is unknowingly a part of an arranged marriage with Nikos Vassilis as part of a business deal between her grandfather and Nikos. I liked this one a little more, and after I finished it I loved it, because towards the end it was really good. Andrea reveals a big secret why she's so uncomfortable with giving in to her attraction to Nikos. I was caught off guard by this, but I did notice the foreshadowing earlier in story that indicated that something was wrong with her.

Andrea was cool character. She definitely has some backbone, and I liked the way she stood up to her grandfather. Yeah her reaction was a little over the top when she learned about her arranged marriage. She screams and yells at her grandfather, but I thought it was appropriate, because her grandfather is a selfish asshole. When his son, Hope's dad, died in an accident, he threw Hope's mom out of the country and didn't give a damn that she was pregnant. He didn't give one cent to Hope and her mom even when they were in desperate times. Thus, I definitely rooted for Hope every time she faced her grandfather.

I thought I wouldn't like Nikos very much as I read the book. He only agreed to marry Andrea so he could have the grandfather's company and become an even richer man, but he totally redeems himself in the end, especially in how reacts to Andrea's secret. I liked seeing him fall in love with Andrea, and I was really happy for them once they worked everything out in the end.